For the first time in a long time, I actually struggled with picking my top ten albums of the year.
That's a good thing, I guess. When so many great albums are released in a year, it's the listeners and music fans who win. My job should be this hard all the time.
Of course, by limiting this list to ten, I've left off many deserving albums. It was originally a list of 30 that I had to par down. Sadly, this left no room for some releases that everyone else on the internet has been hailing as the "best albums of the year". Whatever. I think these albums are better.
I now present:
DANTE'S INFERNAL RACKET'S
TOP ALBUMS OF 2008
10)
The Hold Steady
-
Stay Positive
(Vagrant)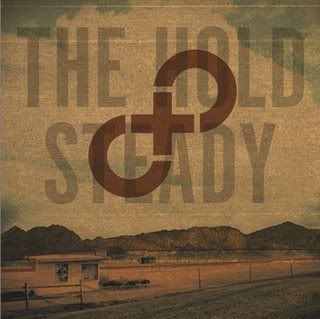 Many bands wear their influences on their sleeves. The Hold Steady just won't stop talking about them.
The first line in album opener "Constructive Summer" bellows: "Me and my friends are like/the drums on 'Lust For Life'". The band then goes on to reference The Dillinger Four, The Clash, and Husker Du, all before getting out of the first song.
Of course this makes perfect sense considering what else The Hold Steady sing about. On
Stay Positive
they sing stories about people who are stuck in adolescence, people who are confused spiritually, and people who aren't sure about where life is taking them. They sing songs about people who are "stuck at the mill until [they] die" and people who smoke in the woods with "townies". They sing songs about the youth in red states, the sing songs about the youth in the suburbs. All they know of the cities is what they've been taught by Led Zeppelin and Bruce Springsteen. All they can do (to quote
Pulp
) is "dance and drink and screw/cause there's nothing else to do."
But unlike on their past albums, The Hold Steady take this a step further.
Stay Positive
is their most grown up album, not in a sense of being more mature, but rather in being old enough to look back and see what's happened. No, the band is still as confused and discouraged as they always are, but now they see what they went through happening to the next generation, and they want to help them through it. The next generation needs to stay optimistic, to think positive. Stick to your goals, and remember your influences and you'll get out of the rut of being a Hold Steady character. After all, The Hold Steady did. Raise a toast to Saint Joe Strummer indeed.
Best Songs: "
Constructive Summer
", "
Stay Positive
", "
Magazines
"
9)
Portishead
-
Third
(Mercury/Island)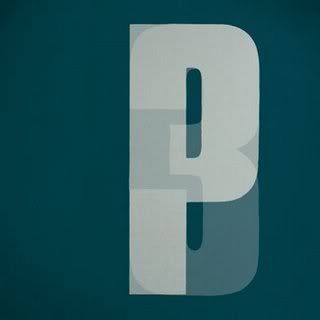 It seems like forever since Portishead released an album. 11 years in fact, and it feels like they haven't been gone at all.
There is something about Portishead that makes them seem so haunting and bleak, and yet at the same time, so...upper class. When listening to
Third
, I get the feeling like I'm sitting at a British aristocracy dinner banquet. The music just fits with the ambiance in the background as we eat and discuss the latest business in front of the House of Lords. I assume British aristocratic gatherings aren't anything fitting of a Portishead album, but it just gives me that feel. Maybe I've seen
King Ralph
too many times.
Beth Gibbons voice calls back the likes of Jackie DeShannon and Nico. On top of that, Portishead approach
Third
with a very 60's pop feel, while still maintaining their identifiable sound; like if Burt Bacharach wrote songs for Iron Butterfly.
Third
isn't a retread of
Dummy
, and for that we're all relieved. After an eleven year wait for a new album, it's reassuring to know that Portishead aren't ready for the 'classic 90's bargain bin' yet, and I hope their fourth album takes a little quicker to make than their third.
Best Songs: "
The Rip
", "
Machine Gun
", "
Hunter
"
8)
The Magnetic Fields
-
Distortion
(Nonesuch)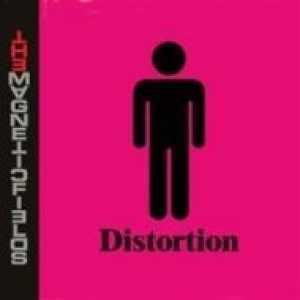 It's 90's week here at Dante's Infernal Racket! First Portishead and now Stephin Merritt's catchy-pop outlet The Magnetic Fields! All we need now is the new Weezer album! (on second thought...no).
For some reason,
Distortion
didn't seem to be too well received by many critics this year. I'm not quite sure why.
Distortion
mixes Magnetic Fields style catchy pop with Jesus and Mary Chain distorted rock. Yeah, it isn't like
69 Love Songs
...but is that what everyone wants? A remake of
69 Love songs
?
The songs on
Distortion
feel almost...more solid than on previous Magnetic Fields albums. Maybe it's the electric guitars of this album compared to the acoustics of
69 Love Songs
, or maybe it's the more playful feeling the album gives off...I don't know, but it just feels like I'm getting more out of these 13 songs than I did on all three discs of
69 Love Songs
.
The album starts off very nice with the Breeder's sound-a-like "Three-Way". The ranting "California Girls" flows nicely from the opener's surf guitars, setting up the records upbeat sound quite well. The sing-a-long opening of "Too Drunk To Dream" is probably the most fun I've ever had with a Stephin Merritt song and along with "Please Stop Dancing" and "Drive on, Driver" form the most enjoyable section of the album. The album's highlight though is the clever "The Nun's Litany" which I'm pretty sure I've played more times this year than I have most other songs from better albums. I keep on coming back to
Distortion
whenever I need a burst of pop and fun. To me, that makes it one of the best albums of the year.
Best Songs: "
The Nun's Litany
", "
Too Drunk To Dream
", "
Drive On, Driver
"
7)
Why?
-
Alopecia
(Anticon)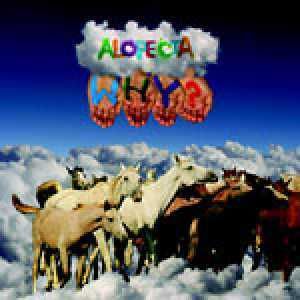 Is Why? a hip-hop group or are they an indie rock band? If you Googled the un-Google-able band, that's what you'd find...lots of discussions about what genre Why? could possibly be. Why? is the perfect candidate for my most hated genre selection on iTunes: 'Unclassifiable'...and that's only because the idea of a bunch of indie-rock white boys raping about how much they like Whole Foods confuses people who think genre is a rule and not a suggestion. These are the same people who write in their 'favorite music' box on
facebook
"Everything but country!!!" and think that actually defines anything.
If you want to use a comparison to describe them, they're Faith No More for the 2000s or maybe Alice in Chains for the health food nut.
The stand out song on the album is "Fatalist Palmistry" a bright, happy-sounding pop number stuck right in the middle of the album. The song revolves around the idea of palm reading and numerous times mentions loving life, yet it's surrounded on both sides by songs about death, sex and darkness. I guess it's only fitting then that the song starts and ends with references to dying: "I sleep on my back cause it's good for the spine/and coffin rehearsal" and "I'll be embalmed with it long before you'll see". This seems to be Why?'s topic of choice. All their songs act as stream of consciousness diatribes on the uncertain and inevitable, or rather, sex and death. On the album opener "The Vowels, Pt.2": "I'm not a ladies man/I'm a landmine/filming my own fake death." On "Simeon's Dilemma" "But I still hear your name in wedding bells/Will I look better or will I look the same rotting in hell." Most of the songs on
Alopecia
discuss one of these two topics in sometimes awkward and hopefully tongue-in-cheek ways. On "Good Friday" rapper Yoni Wolf mentions there are lots of things he wouldn't even say to his psychiatrist. He seems perfectly content with relaying it all to us though. If I didn't like it so much, I'd demand my own prescription pad.
Best Songs: "
Fatalist Palmistry
", "
The Vowels Pt.2
", "
Song Of The Sad Assassin
"
6)
Marnie Stern
-
This is it and I am it and You are it and So is that and He is it and She is it and It is it and That is that
(Kill Rock Stars)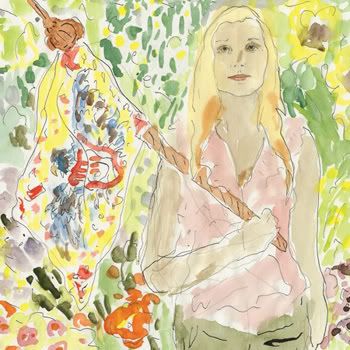 I can't think of a way to describe Marnie Stern's second album. It's not really metal, even though her guitar work is on the level of Eddie Van Halen. It's not really pop, as this could never be played on mainstream radio. It's sort of like she created her own genre...a type of Progressive Pop.
Marnie Stern's work needs to be heard to be understood. The album is weird and choppy. It's not candy to the ears. It's angular, it's awkward. It's like the last few seconds of the Beatles "A Day In The Life" when the orchestra just says the hell with it and creates nightmares.
And even that's not really a good description. Stern's songs play with pop structure. They are pop songs, just...not in the right order. Remember in
Pulp Fiction
how the story structure was all mixed up...how you'd get half of the story, and then we'd cut away to Bruce Willis, and he kills John Travolta, but then we got back to the middle of the first story and Travolta's still alive?
Ah fuck it. That description sucks too. Really, I have no fucking clue how to even approach this album for a review. It's uncomfortable progressive pop metal. It's "Karn Evil #9" meets "Fuck and Run". It's a cyclone and a siren put together. Take album highlight "Ruler". It starts almost like hoe-down music and then turns into a Sleater-Kinney song. How else can this be described? It shouldn't work, but it does perfectly. Not only am entranced by it, but I can't stop listening to it. Just give it a listen yourself.
Best Songs: "
Ruler
", "Roads? Where We're Going We Don't Need Roads", "Prime"
5)
The Dutchess & The Duke
-
She's The Dutchess, He's The Duke
(Hardly Art)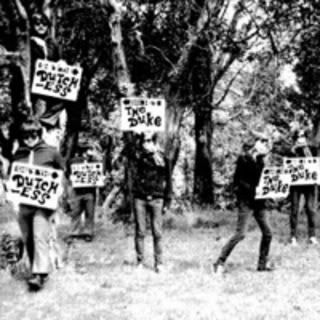 This one is simple. The Dutchess & The Duke sound like acoustic
Aftermath
era Rolling Stones with a little dash of Richard and Linda Thompson. They play 60's blues and folk songs. That's either a selling point to you or not.
Best Songs: "Out Of Time", "
Mary
", "
Strangers
"
4)
Hot Chip
-
Made in the Dark
(EMI)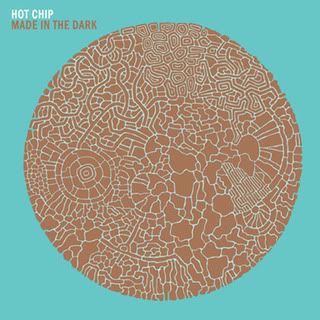 Hot Chip is probably the epitome of the slur "Pitchfork Artist".
Pitchfork
promotes the hell out of these musicians, and because of that, there is normally a sort of resentment towards them around the internet (See also:
Deerhunter
). Including Hot Chip's
Made in the Dark
on this list is certainly not earning me any brownie points from the music blog community, but to not include it would be to ignore a very enjoyable album simply because some guy in an office in Chicago compared them to Giorgio Moroder.
Made in the Dark
is electronica, but it is poppy electronica. The music bares a closer resemblance to Interpol than it does Prodigy. Almost like The Rapture's "Echoes" by way of Daft Punk's "Digital Love". Their music is extremely catchy and easily danceable. Plus they reference Todd Rundgren's
Something/Anything?
. And I
LOVE
Something/Anything?
.
Best Songs: "
Wrestlers
", "
Ready For The Floor
", "
Shake a Fist
"
3)
Bon Iver
-
For Emma, Forever Ago
(Jagjaguwar)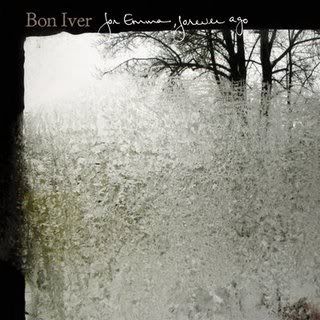 Bon Iver's
For Emma, Forever Ago
was originally self-released in 2007, but since it's official release was 2008, and since I had no clue it existed until this past year, I'm going to consider it officially a 2008 album.
2008 was a good year for the '
Americana
' sound. Bonnie "Prince" Billy released a pretty damn good album with
Lie Down In The Light
, The Fleet Foxes had a fantastic EP and LP and Bon Iver came out with
For Emma, Forever Ago
. Bon Iver is really just Justin Vernon, formerly of folk band DeYarmond Edison. He recorded most of
For Emma, Forever Ago
Walden style...isolated in a cabin in Wisconsin for four months. The album reflects Vernon's experience. It's a haunting debut, filled with the psyche of a man isolated in nature.
Vernon's voice alternates between a Will Oldham style growl to a TV on the Radio-esk falsetto (though it mostly stays in the falsetto). More than anything the album sounds like the latest release from Iron & Wine, or maybe even Ray LaMontagne, but neither of those two have made an album this coherent before.
For Emma, Forever Ago
is a quite fantastic piece of folk music.
Best Songs: "
Skinny Love
", "
Flume
", "
Re: Stacks
"
2)
Nick Cave and the Bad Seeds
-
Dig!!! Lazarus Dig!!!
(Mute)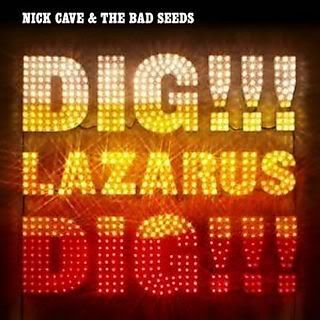 Nick Cave is 51. You'd never know it from the way
Dig!!! Lazarus Dig!!!
sounds though. These days, when a rocker gets old, he usually resorts to recording crap like muddled vanilla versions of old
standards
. But not Cave. When he gets old, he rocks harder.
Dig!!! Lazarus Dig!!!
opens with the title song, a spiraling epic about what happened to "Poor Larry" after he was risen from the grave. Cave uses the resurrection of Lazarus to return to one of his favorite topics: God. "Dig, Lazarus, Dig!!!" chronicles a modern Lazarus's journey through despair and obscenity as he digs himself deeper and deeper into the ground, blaming it all on the fact that "he never asked to be risen up from the tomb/...no one ever actually asked him to forsake his dreams".
"Poor Larry"'s journey brings forward the notion that God's work might not be understood by us, but everything is happening according to some plan: "I can hear chants and incantations and some guy is mentioning me in his prayers./ Well, I don't know what it is but there's definitely something going on upstairs." This point carries Cave throughout the album, as he touches upon other cases of humans not understanding a greater thought, and in the end, rejecting it. On "We Call Upon The Author" Cave sings: "Rosary clutched in his hand, he died with tubes up his nose/And a cabal of angels with finger cymbals chanted his name in code/We shook our fists at the punishing rain/And we call upon the author to explain." Throughout the song, the effects of tragedy are questioned by those closest, asking God, their supposed author, why they must occur. The repeated chant of "Prolix, Prolix/Nothing a pair of scissors can't fix" obviously shows the questioners reaction to God's response...the result being a mutilated version of what they once believed.
In "Albert Goes West" Cave sings "I said the world is full of endless abstractions/And I won't be held responsible for my actions." Here, another challenge to a higher authority is made, this time the refusal of the protagonist to recognize any type of higher law (whether God's or the state's)due to their generality. The inclusion of the American West (another one of Cave's
favorite
topics
) brings forward the imagery of a lawless society, one where no one has to worry about anyone judging them. The album's closer "More News From Nowhere" takes everything to it's logical extreme, with a world of moral anarchy, supplemented by the continued delivery of "more news from nowhere". A Dionysian orgy in a world where God is dead to the people, all because they don't understand his plan and instead have chosen to reject him. It all happens to "Poor Larry" in the opening song, and the only place it lead him was straight back to the grave. You think Cave is trying to tell us something?
Best Songs: "
Dig, Lazarus, Dig!!!
", "
We Call Upon The Author
", "
More News From Nowhere
"
1)
Fleet Foxes
-
Fleet Foxes
(Sub Pop)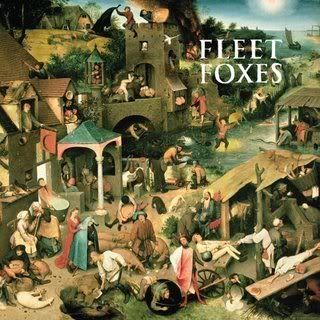 And to think, just
a year ago
, I was badmouthing Panda Bear for trying to sound too much like the Beach Boys, while meanwhile, on the opening to "Blue Ridge Mountains" The Fleet Foxes do a pitch perfect impression of the Wilson Brother's harmonies, and I'm praising them. My, how times have changed.
The Fleet Foxes' self-titled debut album is a perfect piece of chirpy 60's folk. Somehow though, possibly by use of time tunnel or warp zone, this 60's folk album came out in 2008. The Fleet Foxes hit every note they need to hit, from emulating The Byrds and the International Submarine Band to the aforementioned Beach Boys. They combine their folk with sunshine pop to create what is undeniably a west coast sound.
Every song on
Fleet Foxes
hits, from the crooning (and Beirut sounding) "Tiger Mountain Peasant Song", to the sing-a-long "White Winter Hymnal", to the possibly lost Gram Parsons recording "Meadowlarks". The album is as close to perfect as any album came this year, and for that it takes the number one slot on my list.
Best Songs:"
White Winter Hymnal
", "
Blue Ridge Mountains
", "
Ragged Wood
"
And since, I know someone is going to ask, here are, without comment, 11-20:
11)Dengue Fever-
Venus On Earth
(M80)
12)Santogold-
Santogold
(Downtown)
13)Vampire Weekend-
Vampire Weekend
(XL)
14)Times New Viking-
Rip It Off
(Matador)
15)Department of Eagles-
In Ear Park
(4AD)
16)Jenny Lewis-
Acid Tongue
(Warner Brothers)
17)Lil Wayne-
Tha Carter III
(Cash Money)
18)Be Your Own Pet-
Get Awkward
(Ecstatic Peace)
19)Bonnie "Prince" Billy-
Lie Down In The Light
(Spunk)
20)Juana Molina-
Un Dia
(Domino)
Thanks for reading! I'm going to have a music summary of 2008 post up soon (I promise) and hopefully soon after that, a list of my favorite songs of the year. After that, I'll probably tackle movies.
Also, there will definitely be unrelated posts separating these.
So, what do you think guys?